Trusted Repair Services With Exceptional Results
30 years of industry experience and an established reputation guarantees our customers the absolute best quality and service in home exterior repairs, maintenance, and much more.
---
"We were blown away by the work that Landmark Exteriors Home Care did at our home. We will never use another home exterior company!"
-Darien, CT Customer
Home Care Repair Services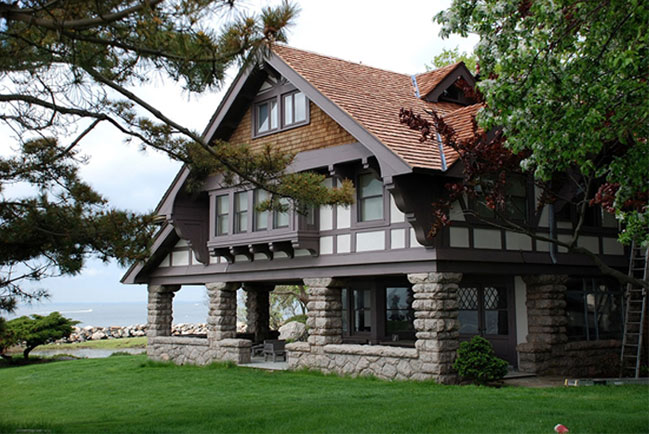 Season after season your home takes a beating from the changing weather
HOME EXTERIOR SERVICES
Landmark Exteriors in connection with Cedar Life is a high end, well-established roof installation company in business for over 18 years. With our Home Care division, we provide an extensive list of services to keep your home in great shape. Large or small, we fix all problems in a timely manner with the highest level of customer service.
Below are some of the many services we offer, but we will take care of all your home care exterior needs. We find solutions to any issues. Be sure to also take advantage of our preventative services to sustain the beauty of your home.
Roof inspection and repair
Gutter repair
Snow guard installation
Ice damming
Siding repairs
Trim rot repair
Roof snow removal
Window repair
Deck repair
Power wash patios and decks
Fence repair
Preventative Maintenance Plans
Safeguard against leaks and damage with our pre-scheduled and worry free maintenance plan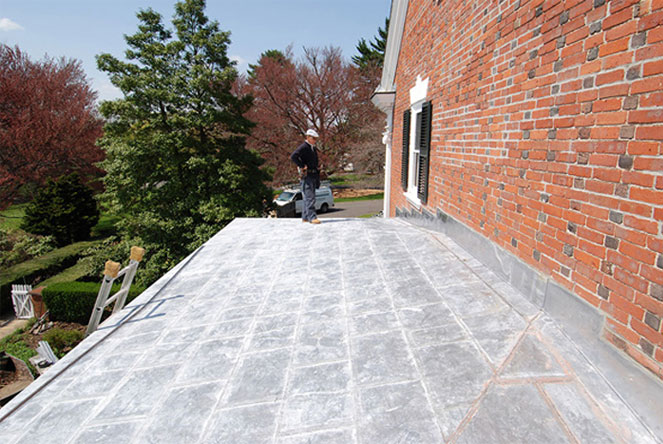 PREVENTATIVE MAINTENANCE PLAN
We're all guilty of it - waiting until something becomes a problem before we take action. A leaky roof. Clogged gutters. Damaged siding. The goal of our Home Care division is to help you prevent that. Our various preventative services eliminate the hassle of having to remember your next cleaning or service.
By understanding the importance of annual upkeep, you can avoid costly repairs and damage down the line. Our knowledgeable staff will answer all your questions and will set up a schedule for your specific needs. Please call our office for pricing and details: 203-838-3838.
Who We Are
Landmark Exteriors Home Care is an extension of an already established and successful roofing business which specifically caters to customers with exterior home repair needs and an interest in preventative maintenance.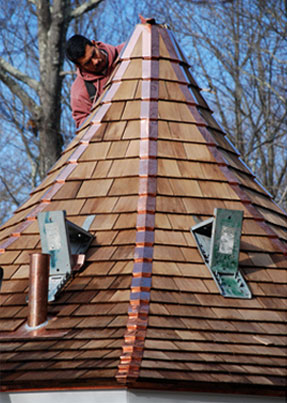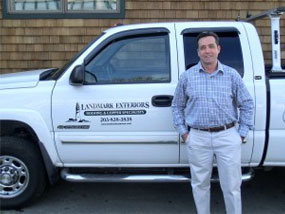 OUR HISTORY
For the past 18 years, clients throughout Connecticut, Westchester County, the north shore of Long Island and the Hamptons have relied on Landmark's expertise in creating unique cedar, slate, tile, copper and shingle roofing and siding, as well as custom gutter and downspout system solutions. We offer design and consultation services for homeowners, and work closely with architects, builders and designers to ensure that the roof that protects your home is as extraordinary and exquisite as the home beneath it. Today, Landmark Exteriors has become an industry leader in roofing, siding, gutter design and installation. With the development of its Home Care division, the company once again proves it's customers come first. We listened to your wants and needs and developed a preventative maintenance plan to make your life easier.
OUR HOME EXTERIOR EXPERTS
Scott Teed began his career in 1984, starting at the bottom and learning all aspects of the construction industry. He worked his way up the ladder and eventually landed a management position. As the manager of a roofing division, Scott gained hands- on experience in roofing techniques and producing high quality deliverables to his customers.  Scott founded Landmark Exteriors in 1996 so he could continue to expand his knowledge and expertise. His passion for innovative design solutions, precise workmanship and excellence is what makes Landmark Exteriors a Fairfield and Westchester county leader in roofing, siding and gutter system design and installation. Landmark Exteriors Home Care division is a direct solution to Scott's customers' need for additional home maintenance services. It was created to establish long lasting relationships with customers and solidify Landmark Exteriors as a trustworthy and reliable company for all home care needs.  Landmark Exteriors Home Care puts its customers first and strives to give them the very best.
Ed Jezairian has been in the construction industry for 15 years. Prior to joining Landmark Exteriors Home Care he owned a home repair business. From there he moved into the fire and water restoration business where he held the position of Emergency Recovery Manager. In that position, Ed managed the reconstruction of homes and worked tirelessly to get people back into their homes as quickly as possible. These experiences helped him to understand the need for reliable service and how important it is to meet the customers' needs. Ed has an extreme passion for fixing and repairing the homes that he works on and an asset in any building and repairing situation.
"My roof was in bad shape. Like most people, I waited until it became a big problem to take action. Landmark Exteriors Home Care did an amazing job on the roof repair and educated me about continued maintenance to avoid problems in the future."
-Westchester County Customer
Contact Us
Have a question on our services and maintenance programs? Fill out the form below and we will get back to you within 48 hours.
*Denotes required field.
Landmark Exteriors
Home Care
18 Sheehan Avenue
Norwalk, CT 06854